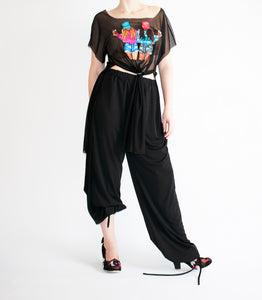 Created in Limited Edition, the Mild One vs Wild One top is crafted with fine, transparent, black fabric. The top is provided with cutouts on the sides. 

Decorated with with two feminine, summery and very colorful silhouettes, this piece transforms into your perfect choice for the warm season.

The top is equipped with a decorative needle-type brooch, so it can be easily adjusted both at the front or at the back, building an asymmetrical and ingenious outfit.


Composition: 93% pes, 7% elastane